The Icon Corner
---
Icons in the church are not there simply for art or decoration, but for veneration. Icon veneration is not limited to the church building itself, however. Eastern Christians, particularly those in Eastern Europe, maintain an icon corner in the home (Russians call this the Beautiful Corner).

The icon corner serves as the center of prayer in the home and it is customary for visitors to venerate the icons when entering. The corner may consist of one or more icons hung on the walls with Christ to the right and the Blessed Virgin to the left, with other saints below. Or, the icons may be placed in stands on the table itself.

Oil lamps or candles may be used to luminate the icons at chosen times. Flowers from Christ's tomb during Holy Week, and palm or pussy willow branches from Palm Sunday, the blessed red egg from Pascha and other items from the liturgical year are often laid on the stand. Prayer books, chotki (prayer ropes) and other devotional items are also stored on or in the table. A special container which holds prosphora (antidoron), the blessed bread from the previous Sunday Liturgy, allows for daily consumption throughout the week in some families.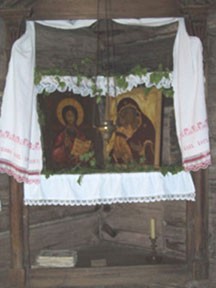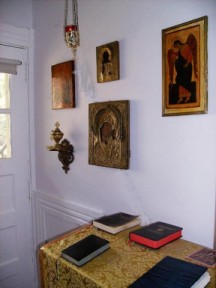 Icon corners were found in peasant houses and now in modern homes.