Icon Arrangement on the Iconsostasis
---
Royal Doors: the central doors are called Royal because the priest carries the consecrated bread and wine, Christ the King, through them during the Divine Liturgy. They also called Holy Doors or Beautiful Doors. The doors are usually adorned with an icon of the Annunciation since the Virgin Mary is the first door through which Christ passed to become the Son of Man.

Mary and Jesus: an icon of the Mother of God (Theotokos) with the infant Jesus is located to the left of the Royal Doors. This icon illustrates the Incarnation of Christ which began the process of salvation for mankind.

Christ the Lord: on the right is the Pantocrator (Ruler of All). Christ will judge our response to His Sacrifice and offer of salvation. Thus, salvation history moves from its beginning with the icon of Mary and the Infant Jesus, through the Royal Doors (our current opporunity for salvation) to the Last Judgement in the central part of the iconostasis.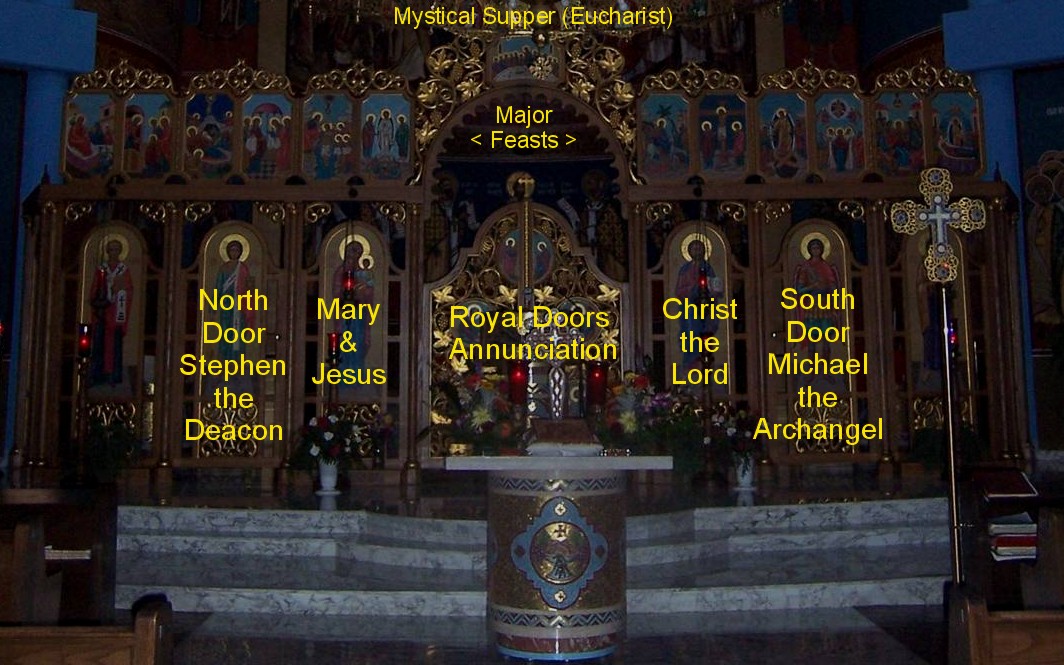 Larger Image


North and South Doors: these are called the Deacon's Doors because the deacons use them to enter and leave the sanctuary area in the Divine Liturgy. An icon of the deacon St. Stephen the Proto-Martyr (first martyr) or or an archangel such as St. Michael usually adorns the north door. The south door often has deacons such as St. Philip or St. Lawrence, or the Archangel Gabriel.

First Level Icons: other icons on the first level often feature St. John the Baptist (the Forerunner), St. Nicholas of Myra, and patron saints or angels of the local church or particular rite (i.e. Ukrainian Greek Catholic Church, etc.).

Second and Third Level Icons: a central icon featuring the institution of the Eucharist on Holy Thursday is very common. Icons of additional saints, often the twelve apostles, or a series of icons of the Twelve Major Feasts of the Church Year will fill the second and third levels of the iconostasis if it is that high.